Aspire2Teach in Queen Creek Unified School District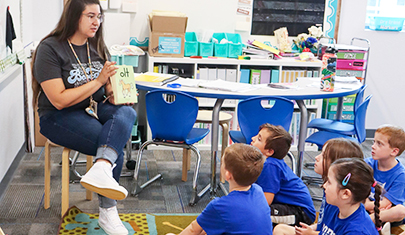 Do you know someone that has aspired to be a teacher? Queen Creek Unified School District (QCUSD) is pleased to announce we are now offering an alternative path to certified teaching.
This opportunity is available through a classroom-based educator preparation program, Aspire2Teach, approved by the Arizona State Board of Education. Aspire2Teach is a two-year program where participants will serve as the classroom teacher while receiving job-embedded coaching and mentorship in order to earn certification. If you possess a bachelor's degree and have ever considered becoming a teacher, the Aspire2Teach program may be a great opportunity for you.
Please review program information below to determine if you are eligible for the Aspire2Teach opportunity.
Program Information and Requirements:
Two-year commitment with over 150 hours of professional development each year
Certification options: Elementary k–8, secondary 6–12, and special education k–12
Bachelor's degree from an accredited institution
Valid IVP fingerprint clearance card issued by the Arizona Department of Public Safety
Valid alternative teaching certificate obtained through assistance from QCUSD upon program admission
Tuition free
Upon successful completion of the Aspire2Teach program, participants will earn a classroom-based standard teaching certificate issued by the Arizona Department of Education.
Want to learn more? Visit our Aspire2Teach page, or join us at one of the upcoming informational sessions at the Queen Creek Unified School District office.
March 29, 2023, at 5:30 p.m.
April 5, 2023, at 5:30 p.m.
20217 East Chandler Heights Road, Queen Creek, AZ 85142
At this time QCUSD is accepting applications for the 2023–2024 school year. Apply online to be considered for the 2023–2024 Aspire2Teach cohort.