Crismon High School Opens in Queen Creek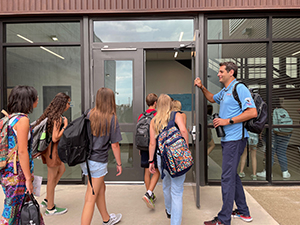 Queen Creek Unified School District's (QCUSD) newest school is bustling with students after opening for the 2022–23 school year Wednesday. Crismon High School's 76-acre campus is in its first phase, and will continue to grow and develop with the community over the next several years. Principal Elyse Torbert welcomed more than one thousand seventh- through tenth-grade students to the school for the first day.
"Our faculty and staff have worked hard to prepare and everyone's excited to start new traditions," said Torbert.
The state-of-the-art school features technology-rich, collaborative learning spaces as well as comprehensive academics including AP and Dual Enrollment courses, athletics, and arts programs. The brand new facility provides spaces dedicated to STEM, fine arts, health sciences, business and leadership, as well as athletic fields for play, practice, and competition.
Students like Sara Jane Burningham are excited to pioneer the new school's culture and traditions, building upon the success of an already award-winning district. QCUSD opened Eastmark High School in 2019, which graduated its first senior class in May. Burningham is a freshman this year at Crismon, excited about growing with the school.
"We're all new, so we can build together," said Burningham.
Crismon serves the southern portion of the rapidly-growing district. With a current total district enrollment of more than 14,000 students and an estimated increase of 30 percent in the next five years, QCUSD's new high school will provide premiere-level education to a growing community for decades to come.
To learn more about Crismon High School or QCUSD, visit our district Home page.